Plastic Boxes Stainless Hinge Type (Medium Size)
Trader

South Korea
Product Detail
Information
A Special Feature of Product
Draw latch and hinge made of stainless steel hardly break in high frequency in opening and closing.
Airtight ability of our enclosures is excellent, because beginning with plan we produce our enclosures after due consideration if they are screw opening-closing type and draw latch opening-closing type.
For the sake of convenience a user can make a hole at part of furnishing draw latch with his own hands.
Model and standardized list
SIZE
SIZE
MODEL
Mounting plate
W * L * H
(Unit :mm included cover)
W * L * H
(Unit :inch included cover)
ABS
PC/ABS
PC
gray cover

trans
parency cover

gray cover
trans
parency cover
gray cover
trans
parency cover
steel 1.6mm
plastic 3mm above
190x280x180
7.48 x 11.02x7.09
BC-AGH-192818
BC-ATH-192818
BC-PGH-192818
BC-PTH-192818
BC-CGH-192818
BC-CTH-192818
1928 S
1928 P
280x190x180
11.02x7.48x7.09
BC-AGH-281918
BC-ATH-281918
BC-PGH-281918
BC-PTH-281918
BC-CGH-281918
BC-CTH-281918
2819 S
2819 P
190x380x180
7.48x14.96X7.09
BC-AGH-193818
BC-ATH-193818
BC-PGH-193818
BC-PTH-193818
BC-CGH-193818
BC-CTH-193818
1938 S
1938 P
380x190x180
14.96x7.48x7.09
BC-AGH-381918
BC-ATH-381918
BC-PGH-381918
BC-PTH-381918
BC-CGH-381918
BC-CTH-381918
3819 S
3819 P
190 x 190 x 130
7.48 x 7.48 x 5.12
BC-AGH-191913
BC-ATH-191913
BC-PGH-191913
BC-PTH-191913
BC-CGH-191913
BC-CTH-191913
1919 S
1919 P
190 x 280 x 130
7348x11.02x5.12
BC-AGH-192813
BC-ATH-192813
BC-PGH-192813
BC-PTH-192813
BC-CGH-192813
BC-CTH-192813
1928 S
1928 P
190 x 380 x 130
7.48 x 14.96X5.12
BC-AGH-193813
BC-ATH-193813
BC-PGH-193813
BC-PTH-193813
BC-CGH-193813
BC-CTH-193813
280 x 190 x 130
11.02 x 7.48 x 5.12
BC-AGH-281913
BC-ATH-281913
BC-PGH-281913
BC-PTH-281913
BC-CGH-281913
BC-CTH-281913
1928 S
1928 P
280 x 280 x 130
11.02 x 11.02 x 5.12
BC-AGH-282813
BC-ATH-282813
BC-PGH-282813
BC-PTH-282813
BC-CGH-282813
BC-CTH-282813
2828 S
2828 P
280 x 340 x 130
11.02 x 13.39 x 5.12
BC-AGH-283413
BC-ATH-283413
BC-PGH-283413
BC-PTH-283413
BC-CGH-283413
BC-CTH-283413
2834 S
2834P
280 x 380 x 130
11.02 x 14.96 x 5.12
BC-AGH-283813
BC-ATH-283813
BC-PGH-283813
BC-PTH-283813
BC-CGH-283813
BC-CTH-283813
2838 S
2838 P
280 x 380 x 180
11.02 x 14.96 x 7.09
BC-AGH-283818
BC-ATH-283818
BC-PGH-283818
BC-PTH-283818
BC-CGH-283818
BC-CTH-283818
2838 S
2838P
280 x 560 x 130
11.02 x 22.05 x 5.12
BC-AGH-285613
BC-ATH-285613
BC-PGH-285613
BC-PTH-285613
BC-CGH-285613
BC-CTH-285613
2856 S
340 x 280 x 130
13.39 x 11.02 x 5.12
BC-AGH-342813
BC-ATH-342813
BC-PGH-342813
BC-PTH-342813
BC-CGH-342813
BC-CTH-342813
3428 S
3428P
380 x 190 x 130
14.96 x 7.48 x 5.12
BC-AGH-381913
BC-ATH-381913
BC-PGH-381913
BC-PTH-381913
BC-CGH-381913
BC-CTH-381913
1938 S
1938 P
380 x 280 x 130
14.96 x 11.02 x 5.12
BC-AGH-382813
BC-ATH-382813
BC-PGH-382813
BC-PTH-382813
BC-CGH-382813
BC-CTH-382813
2838 S
2838 P
380 x 280 x 180
14.96 x 11.02 x 7.09
BC-AGH-382818
BC-ATH-382818
BC-PGH-382818
BC-PTH-382818
BC-CGH-382818
BC-CTH-382818
2838S
2838 P
380 x 560 x 180
14.96 x 22.05 x 7.09
BC-AGH-385618
BC-ATH-385618
BC-PGH-385618
BC-PTH-385618
BC-CGH-385618
BC-CTH-385618
3856 S
560 x 280 x 130
22.05 x 11.02 x 5.12
BC-AGH-562813
BC-ATH-562813
BC-PGH-562813
BC-PTH-562813
BC-CGH-562813
BC-CTH-562813
2856 S
560 x 380 x 180
22.05 x 14.96 x 7.09
BC-AGH-563818
BC-ATH-563818
BC-PGH-563818
BC-PTH-563818
BC-CGH-563818
BC-CTH-563818
3856 S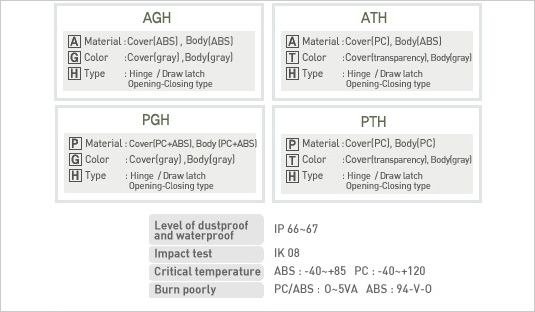 BOXCO dimension (allowable error ±1mm)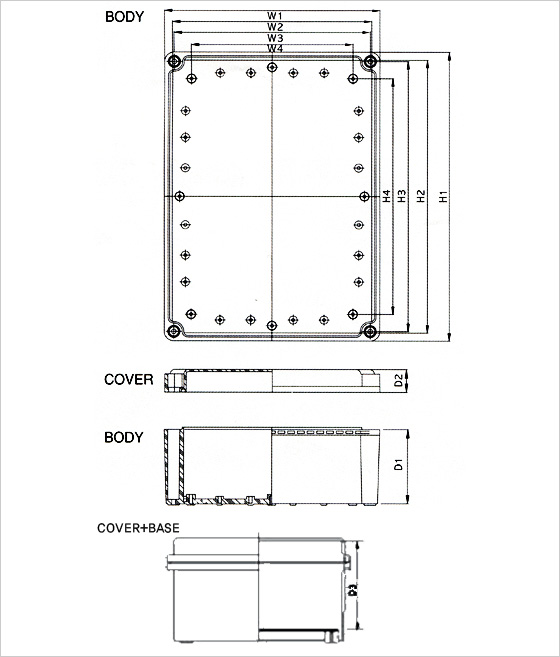 | | | | | | | | | | | | | | |
| --- | --- | --- | --- | --- | --- | --- | --- | --- | --- | --- | --- | --- | --- |
| Size\Division | W1 | W2 | W3 | W4 | H1 | H2 | H3 | H4 | D1 | D2 | D3 | M1 | M2 |
| 190x280x180 | | | | | | | | | | | | 159 | 248 |
| 280x190x180 | | | | | | | | | | | | 159 | 248 |
| 190x380x180 | | | | | | | | | | | | 159 | 348 |
| 380x190x180 | | | | | | | | | | | | 159 | 348 |
| 190 x 190 x 130 | 190 | 170 | 165 | 120 | 190 | 170 | 165 | 120 | 98 | 30 | 113 | 159 | 159 |
| 190 x 280 x 130 | 190 | 170 | 165 | 120 | 280 | 266 | 255 | 210 | 98 | 30 | 108 | 159 | 248 |
| 190 x 380 x 130 | 190 | 170 | 165 | 120 | 380 | 359 | 355 | 310 | 98 | 30 | 109 | 159 | 348 |
| 280 x 190 x 130 | 280 | 266 | 255 | 210 | 190 | 170 | 165 | 120 | 98 | 30 | 108 | 159 | 248 |
| 280 x 280 x 130 | 280 | 266 | 255 | 210 | 280 | 266 | 255 | 210 | 98 | 30 | 109 | 248 | 248 |
| 280 x 340 x 130 | 280 | 259 | 254.7 | 210 | 340 | 319 | 315 | 270 | 100 | 30 | 109 | 248 | 308 |
| 280 x 380 x 130 | 280 | 266 | 255 | 210 | 380 | 359 | 355 | 310 | 98 | 30 | 111.5 | 248 | 348 |
| 280 x 380 x 180 | 280 | 266 | 255 | 210 | 380 | 359 | 355 | 310 | 148 | 30 | 161.5 | 248 | 348 |
| 280 x 560 x 130 | 280 | 266 | 255 | 210 | 560 | 535 | 505 | 490 | 100 | 30 | 118 | (232) | (535) |
| 340 x 280 x 130 | 340 | 319 | 315 | 270 | 280 | 259 | 254.7 | 210 | 100 | 30 | 109 | 308 | 248 |
| 380 x 190 x 130 | 380 | 359 | 355 | 310 | 190 | 170 | 165 | 120 | 98 | 30 | 109 | 159 | 348 |
| 380 x 280 x 130 | 380 | 359 | 355 | 310 | 280 | 266 | 255 | 210 | 98 | 30 | 111 | 248 | 348 |
| 380 x 280 x 180 | 380 | 359 | 355 | 310 | 280 | 266 | 255 | 210 | 148 | 30 | 111 | 348 | 348 |
| 380 x 560 x 180 | 380 | 366 | 355 | 310 | 560 | 535 | 505 | 490 | 150 | 30 | 158 | (345) | (535) |
| 560 x 280 x 130 | 560 | 535 | 505 | 490 | 280 | 266 | 255 | 210 | 100 | 30 | 118 | (232) | (535) |
| 560 x 380 x 180 | 560 | 535 | 505 | 490 | 360 | 366 | 355 | 310 | 150 | 30 | 158 | (345) | (535) |
Accessories